Natural Sound, on Central Ave. SE, in Nob Hill, ABQ
and you can buy one - or two - online!
Or Contact:
Barbara Friedman
bjf@swcp.com
and she will mail you a copy.
$1.00 of every CD we sell goes to Voice of Roma -
www.voiceofroma.com
Saturday, May 29th, 2004
Goddess of Arno played Russian and Balkan music for the opening of the new Russian Tsarist Art exhibit "Nicholas & Alexandra" at the Museum of Fine Arts in Santa Fe.
(see the 'thank you' note in our Raves and Reviews)
We had a great time at our annual
Halloween Balkan Bash!
Thanks for coming! - Sorry if we missed you!
It was the last party until:
SATURDAY, APRIL 9TH, 2005
At Winnings' Coffee Company,
111 Harvard SE (just south of Central in the UNM area).
Beginning dance session starts at 7:30pm and the party starts at 8pm.
Dances taught & lead by ABQ folkdancer & teacher Patsy Gregory.
Yummy drinks and snacks for sale in restaurant.
Admission: $5 general - under 12 free.
This dance party is part of the MUSIC FOR PEACE concerts, which will take place all over the world from April 8 thru 10. For more information about Music for Peace concerts, the Musicians for Peace alliance, or to add your performance please visit this link:
http://m4p.org/index.php?page=main.txt
Goddess of Arno and Outpost Productions presented:
The Queen of Macedonian Romani (Gypsy) singers,
ESMA REDZEPOVA
- accompanied by her band of virtuosi Romani musicians:
Ansambl Teodosievski
at Albuquerque's Historic Sunshine Theater
120 Central Avenue SW, Downtown ABQ
AN ALL AGES, NON-SMOKING, DANCE CONCERT
A portion of proceeds benefits Voice of Roma:
A non-profit Romani human rights and educational organization
PLUS: Music and dance classes with Esma/Ansambl and Rom dancer Sani Rifati
on Tuesday, September 28th, 5-9:30PM
(Special Free reception begins at 5PM - see details below)
Congregation Nahalat Shalom and Goddess of Arno present:
Classes and a celebration honoring Esma Redzepova, Ansambl Teodosievski and Sani Rifati, president of Voice of Roma, Romani dancer and dance teacher
Tuesday, September 28th 5-9:30pm
At Congregation Nahalat Shalom, 3606 Rio Grande Blvd. NW, ABQ
5pm – Welcome by Rabbi Lynn Gottlieb and Voice of Roma presentation by Sani Rifati (Free)
5:20pm – Potluck vegetarian dinner
6-7:10pm Choose one of these three classes offered
#1 - Romani singing with Esma Redzepova (lyrics provided)
#2 - Romani ensemble with Ansambl Teodosievski (Ansambl members play clarinet, trumpet, keyboard, drums/percussion, and accordion)
Any instrument is welcome – all music will be taught "by ear" through repetition
#3 - Romani folk dance with Sani Rifati
7:25-8:40pm Choose one of the three classes offered
8:55-9:30pm Combined classes will review and play/dance together – Fee included in class prices
Bios, tour info and photos:
Esma Redzepova "The Queen of Romani (Gypsy) Music"
North American "Voice of Hope" Tour
September and October 2004
PHOTO by Oliver Tjedan: Esma Redzepova and Ansambl Teodosievski perform at a refugee camp in Kosovo 2002.
ESMA REDZEPOVA (ESS-mah Reh-JEP-oh-vah) is internationally acclaimed as "the Queen of Romani Song". Known to her devoted audiences simply as "Esma", she was born in Skopje, Republic of Macedonia, in Shutka, the largest Romani (Gypsy) neighborhood in Europe, to a family in which song, music and folklore are part of everyday life and family tradition. Esma began her long professional career in Macedonia at the age of 13. She was the first Balkan performer to make Romani music popular with non-Rom audiences and was one of the first female performers to sing on the radio and TV in the former Yugoslavia. As Jordon Levin wrote in the Miami Herald, "...Redzepova's rich, magnificent voice, sobbing in a song of mourning or swelling to a dramatic crescendo, was genuine and infectious." (11/1/01)
In addition to her stellar performances in over 30 countries, Esma is a world-renowned humanitarian. Over the past thirty years, she and her late husband Stevo Teodosievski fostered forty-seven children, training them as musicians and educating them about Romani and Macedonian cultural traditions. Esma has performed in more than 2,000 benenfit concerts and has been an "Ambassador" of the Roma in all of Eastern Europe; she is also known for her humanitarian work with Romani Refugees from Kosovo.
Esma Redzepova, "Woman of the Year" in Macedonia for 2002 and two-time Nobel Peace Prize candidate, will begin the "Voice of Hope" US 2004 Tour in New York in September 2004, with her five piece band (trumpet, clarinet, dumbek-drums, keyboard and accordion) the Ansambl Teodosievski. Four of these talented Romani musicians began to play as young children at the famous Teodosievski School of Music in Beograde, and are now well known all over the world.
Esma Redzepova and Ansambl Teodosievski (not pictured is keyboardist Elvis Huna)
ANSAMBL TEODOSIEVSKI (tay-oh-doh-SEE-yev-skee) - Esma's instrumental band - performs songs of Macedonia, Romania, Slovenia, Montenegro, Bulgaria, Albania, Turkey, Greece, Spain, and Israel, as well as western jazz and pop. Their specialty is the virtuoso dynamic musical traditions of the Macedonian Roma (Gypsies). All of the musicians in Ansambl Teodosievski today are members of the Teodosievski family and have become professional musicians under Esma and Stevo's tutelage. The members of Ansambl Teodosievski grew up playing music together, and each is skilled on more than one instrument. They are very successful not only as Ansambl Teodosievski musicians, but also as composers, arrangers, and leaders of their own bands, making Ansambl Teodosievski an all-star super-group. Several of the Teodosievski band members have won international prizes, including the Grand Prize at the First World Romany Music Festival held in Skopje in 1988.
Simeon Atanasov
(SEE-myon ah-TAH-nah-sov), accordion, born in Kocani, Macedonia, he has toured with Esma throughout Europe, America and Australia. Simeon plays Stevo Teodosievski's accordion and is now Ansambl Teodosievski's primary arranger. As composer-arranger, Simeon won a prize for his song "Caje, caje" (CHA-yeh CHA-yeh) at SutkaFest '93.
Zahir Ramadanov
(ZAH-heer rah-MAD-dah-nov), trumpet, from Kocani, Macedonia. Zahir, is also a solo vocalist and a member of a well-know Kocani hereditary musical family specializing in brass. He has played with Esma since 1975.
Sami "Buco" Zekiroski
(SAH-me "BOOT-so" zeh-KEE-ro-skee), clarinet and saxophone, from Prilip, Macedonia, was Esma and Stevo's first student and foster family member. Sami appears on the cover of Esma's recording Songs of a Macedonian Gypsy (Monitor MCD 71496) in a photo taken soon after beginning his drumming career as a child. His vocal duet recordings with Esma have been very successful.
Elvis Huna
(EL-vis HOO-nah), keyboards and synthesizer, from Skopje Macedonia, was among the last of the Teodosievski family foster children. He owes his name to his birthdate, the year of Elvis Presley's death.
Eljam Rašidov
(EL-yahm RAH-shee-dov), tarabuka (doumbek or hand drum) and traps, from Kocani, Macedonia. Eljam and Zahir joined Ansambl Teodosievski at the same time, and by now have played over 1,500 concerts with Esma.
During the more than four decades of work, Esma/Ansambl Teodosievski recorded more than 100 singles, 20 albums, 20 cassettes, and 15 CDs; including several gold records. Among their latest recordings are Esma Queen of the Gypsies (World Connection Times Square Records TSQD 9028), Chaje Shukarije (World Connection Times Square Records TSQD 9020), Road of the Gypsies (Network 24756), Gypsy Queens (Network 32843), and Nasvali So Uljum (E/AT).
Esma/Ansambl Teodosievski's international tours have included all of Europe, the former Soviet Union, Canada, the United States, Mexico, India, the Middle East, and Australia. Esma/Ansambl Teodosievski have made five films, and appear regularly on television and radio throughout Europe and the Middle East. The city of Skopje, Macedonia celebrated Esma in 2002 with an ESMA 45 Year Jubilee Concert, and the presentation of many awards honoring her distinguished career.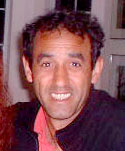 Sani Rifati
(Shah-nee Ree-fah-tee) is a Rom (Gypsy) from Kosovo, of the former Yugoslavia. He is a beautiful dancer and he teaches Romany dance throughout the United States, California-including Kolo festival, The Slavonic Cultural Center, Ashkenaz and also at Amala Summer School in Valjevo, Serbia. Sani was a member of the Sota Folkloric Dance Ensemble in Pristina, in 1978. In the 1980's, Sani was a drummer in a professional band, touring throughout Yugoslavia over a two year period.
Mr. Rifati is the president of Voice of Roma (www.voiceofroma.com ) a nonprofit organization dedicated to educating the general public and raising awareness concerning the plight of the Roma, particularly those in and from Kosovo. He has published articles concerning the discrimination and persecution of Roma, and is well known in the San Francisco Bay Area as an expert on the field of Roma and the human rights issues faced by Roma in Kosovo and Romani refugees in Europe.
Sani has helped educate and raise the awareness of the public concerning the Romani folk arts, and he has been a strong advocate for preserving the traditional folk music, songs, and dances of his culture. He is a strong believer in creating community through his people's spirit of sharing music, dance, oral histories, food and drink. Sani organized the 2002 Herdeljezi Benefit Concert Events in Kosovo featuring Esma Redzepova and members of her Ensemble.
Background on the Esma "Voice of Hope" Tour 2004:
The Voice of Roma sponsored Esma 2004 Tour will include concerts, seminars and workshops in New York, Boston, Chicago, St. Louis, Austin, Albuquerque, Los Angeles, Santa Barbara, San Francisco, Seattle, Eugene, and Washington DC.
This tour by Esma Redzepova, "Queen of Romani Music", and her ensemble is intended to enhance the North American public's exposure to and appreciation of Romani culture, music and dance, within a uniquely cultural context. The context is consistent with VOR's educational mission to broaden understanding of this romanticized and marginalized people. Introductory presentations will be designed to also increase understanding of the very real and often difficult circumstances of Roma throughout Europe.
The North American public has very little understanding or appreciation of the real depth and breadth of Romani music or its distinctive traditions. In fact, Roma are often stereotyped and romanticized within the fields of music and dance. "Gypsy" music is quite in vogue, and musicians such as the Gypsy Kings are extremely popular in the US, but it is rare for Romani artists to be seen and heard within their traditional authentic cultural context.
In 2000 and 2001 two "Gypsy Caravan" Tours took place in the US that were very successful in exposing some American audiences, in some cases for the first time, to authentic traditional Romani music from several geographic regions in India, Russia, the Balkans, and Spain. In 2003 VOR sponsored another successful US tour of the Yuri Yunakov and Ivo Papozov Bulgarian Romani Wedding Band. These three tours included lectures and program notes educating the public about the ways in which Romani historical and cultural roots inform their music, and demonstrating the distinctions as well as the connectedness of the music and dance traditions.